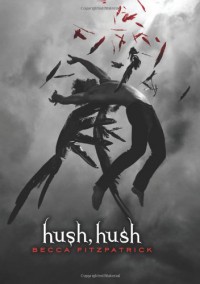 When I started Hush, Hush, I wasn't sure at first if this was the book for me. With several parallels to Twilight, I was a little wary of the story; luckily, Becca Fitzpatrick quickly put all my fears to rest as she crafted a darkly thrilling novel that ended on a satisfying note, yet left me anxious for the sequel, to see if it answered the questions Hush, Hush, raised. Yes, there is a lead female who is inexperienced when it comes to romance; yes, there is an instant attraction between the lead characters, and yes; there is the supernatural element with a threatening undercurrent. But in no way does any of this detract from the story as the talented Ms Fitzpatrick waltzes toward a stunning finish.
While there were some areas I felt could use improvement, I found the story so enjoyable, and it definitely held my attention. (I read most of it in one sitting.) Nora and Patch's relationship was definitely what really hooked me. From the start, Patch just exudes that "stay-away-from-me-I'm-not-good-for-you" vibe that I find appealing. Added to that is the tortured side he reveals as the book unfolds. That's pretty much a knock-out punch for me - bad-boy-with-a-good-heart is always going to make me swoon. And Patch does have a heart though Becca Fitzpatrick had me wondering at points! I love what Nora brings out in him, as well as what he makes her feel. And I especially loved that their relationship was not unorthodox, that despite that instant spark of attraction, Nora fights it. (Which led to some HOT moments!)
I was also a huge fan of the fact that Nora was a little more outgoing and confident than some YA heroines. All too often authors just don't take the time to truly flesh out their lead female. Nora wasn't quite as fierce as I wanted her to be (there were a couple moments I wanted her to punch Patch!) but she was pretty cool, and easily sympathetic. I loved that she is able to keep a clear head about her own self-worth, and that even when she's falling for Patch, she is still able to make decision (good or bad) and that she remains her own person.
I also loved all the humor in the book, especially Patch's darker humor. All the characters had some good one-liners, even in unexpected moments. Nora and Patch's banter had me cracking up at times. And while I really dug the history and the reasoning behind what was happening to Nora, I also wished Becca Fitzpatrick had given us a little more depth. I hope there will be more in Crescendo! And this is really picky but some of the wording, like descriptive phrases and such seemed redundant. Other than that, my only other gripe is that the prologue felt totally out of place. I get why it was what it was, but I was hoping for more pay-off from what was begun there!
Otherwise, I'm starting Crescendo soon, and for anyone who hasn't read Hush, Hush...why haven't you?
Memorable Quote
"...I'm not good," he said, piercing me with eyes that absorbed all light but reflected none, "but I was worse."- Patch
Find more reviews at
Once Upon a Prologue