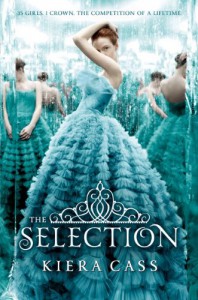 In The Selection, debut author Kiera Cass delivers an unexpectedly heart-warming story that will leave you wanting more. Even though I had a major crush on the cover from the first time I saw it, and the premise sounded rather interesting, I went into this book with some trepidation. I'm not an avid watcher or fan of shows like The Bachelor/The Bachelorette - generally I tend to doubt that two people can truly fall in love on national television. But there was just something about The Selection that called to me, and so I was also somewhat curious and eager when I started reading. And luckily, I quickly fell in love with the main character, America Singer, and with the world Cass has developed. I categorized The Selection as dystopian, and although the stakes are high in some aspects, the vast amount of comparisons to The Hunger Games are misdirected.
The Selection is in some ways a less sinister dystopian than The Hunger Games, Pandemonium, or Shatter Me. That's NOT to say in any way that is makes less of an impact; I know as a reader, even after I finished it a few months ago, I was still thinking about the characters weeks after I closed the book. Kiera Cass has concentrated less on government control as a theme and more of a highly developed, interesting and unfair caste system that I found fascinating. I wasn't expecting such a focus, but it's a new twist on the "have's vs have-not's" age old dilemma. America knows the limitations of her caste as well as her place - and the unfairness of that, considering it means she shouldn't marry Aspen, the boy she loves...Aspen, who is a caste below her. When America is chosen to be in the Selection, her family is over-joyed. If she wins, she'll marry Prince Maxon, and even if she simply competes, her family will be elevated in status and taken care of, but for America - loyal, with a huge heart - it means leaving behind everything she's ever known, all to become involved in something she doesn't even want.
Yet just like America, I found myself getting caught up in the atmosphere of life in the castle. The King and Queen weren't what I expected, and neither were a few of the other girls. Cass takes care to flesh out her secondary characters, which I really enjoyed. A few of them fell flat, but for the most part, they were all more than just names on the page. I also really liked how real everything seemed, through America's eyes. She was so not dazzled by being in the Selection, and I think that made everything have more of an impact - the sense of danger from rebels was more heightened, as were the feelings she started to have and explore for Maxon.
The romance in The Selection was sweet and definitely tugged at my heart-strings, but once again, I realized I was reading yet another book with a love triangle. I will say this: I really believed Aspen and America. Kiera Cass wrote in a lot of moments between them that showed, rather than told, their love. So it was a real struggle for me to realize that, and then of course to see America drawn, despite her will, to Maxon. The prince isn't anything like America thought he would be, and I really DID love their interactions, their friendship, their easy back-and-forth. I think I'm just over-tired of love triangles.
The Selection has a lot of elements that I like, but there were several things I thought could have been improved on. The threat to the people's safety from rebels felt almost thrown in, and I would have liked for that to have been treated better. The ending was very rushed, including the handling of the love triangle. And I really found myself hoping this would be a stand-alone. I think with another hundred pages (or the same amount of pages but events playing out differently) this could have been a satisfying stand-alone; however, I will likely read the next two books in the trilogy.
(Personal note: this was my first ever ARC from HarperTeen!)