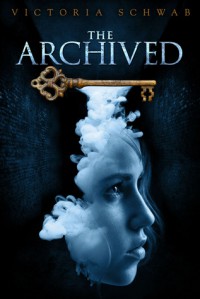 There are no windows because there is no outside, and yet above the shelves there is a vaulted ceiling of glass and light. The place is vast, and made of wood and marble, long tables running down the center like a double spine, with shelves branching off to both sides like ribs. The partitions make the cavernous space seem smaller, cozier. Or at least fathomable.

The Archive is everything you told me it would be: a patchwork…wood and stone and colored glass…all throughout, a sense of piece.

But you left something out. It is beautiful.
Victoria Schwab became one of my favorite authors with her debut, The Near Witch; I fell hard for her haunting writing style. When I heard about The Archived, I was beyond excited, especially when I received a galley. I immediately knew this was going to be a book unlike any other; within the first 40 pages, I cried twice. Victoria's prose gripped my heart tight, and her authentic characters made me feel at home within the pages. The emotions are right there on the surface, beautifully etched across the pages.
I think one of the marks of a great author is one who is able to write characters that you remember long after you read about them. Victoria does that with not just one, or a few, but with all of the characters in The Archived. Whether they grace one page or many, they're fantastically alive, from Mac to Wesley, to Ben, to Roland, to Nix. I admired Mac's tenacity and her huge heart, Wes's humor and caring, Roland's patience with Mac. I fell head over heels for Wes, and needed more, more, more of Wesley and Mac together – I really enjoyed watching their friendship grow. But by far the characters that made the deepest impression on me were the ones who weren't in The Archived as much; it says a great deal, to me, when the secondary characters can fill your eyes with tears and make your heart ache.
I read The Archived over the course of several days – slowly, because I didn't want to finish it. It's so much – a mystery with a blush of romance, a study in how grief can tear apart or repair relationships, a rich parallel world running alongside our own. Victoria tenderly paints such vivid images in The Archived – of escape, of love, of friendship. Along with being an ethereal story, it's just gorgeously written. There are passages about Mac's losses that just ripped my composure to pieces; there are other sentences that sewed me back together. Victoria is an artist when it comes to wording and evoking feelings.
I loved that Victoria wasn't afraid to face uncomfortable issues like death, loss, unhealthy relationships, and dealing with those things. I liked that some characters weren't who I thought they were, and that seeing all of this through Mac's eyes felt genuine. We were in her point of view; we made mistakes with her – and grew with her, too. Mac's behavior isn't excused like happens in other books I've read. She makes some bad calls, but she kept trying, and I applaud her for that. I enjoyed that relationships were explored and built, torn down, and rebuilt. I loved the world of the Archive – the Histories, the Librarians, the Keepers, and their rules and customs. I liked the overall mystery, and all the revelations – some I guessed, some I didn't. I was fascinated by The Archive, and I wanted to stay forever. I wanted to be there with Mac, and I guess in a lot of ways while I read The Archived, I was. I can't wait to go back.